Pentagon defends response time of Haiti aid efforts
Military jets have begun delivering relief supplies as part of Haiti aid efforts in the wake of the earthquake, but it will take another week for a US Navy hospital ship to reach there. Parachute drops have been ruled out for now, for fear of riots.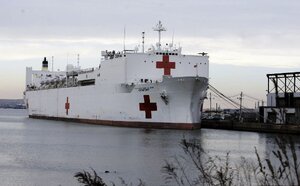 Rob Carr/AP
Defense Secretary Robert Gates says the initial response time of the US government to the disaster in Haiti was about as good as it can be.
Mr. Gates said earthquake relief was the first priority of the American military "in this hemisphere" as military jets begin routine deliveries of relief supplies and the aircraft carrier USS Carl Vinson arrives, three days after the 7.0 magnitude earthquake rocked the impoverished country.
"I don't know how this government could have responded faster or more comprehensively than it has," Gates said at the Pentagon Friday. "There are just some certain facts of life that affect how quickly you can do some of these things."
Katrina relief commander says US could do better
But retired Army Lt. Gen. Russel Honoré, who served as the task force commander for relief efforts following Hurricane Katrina in 2005, said Thursday evening in an interview that he believes the American government could do better.
---