Pentagon wants $33 billion more for war in Afghanistan
The Pentagon's request for a $33 billion war supplemental for Afghanistan has Congress concerned about long-term costs. Training Afghan security forces, for instance, could take years.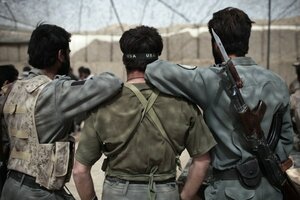 Newscom
The Pentagon wants $33 billion in additional funding to pay for the war in Afghanistan this year and train the Afghan military, but members of Congress want to make sure they're not writing a blank check.
Defense Secretary Robert Gates and Secretary of State Hillary Rodham Clinton appeared before Senate appropriators to defend the war supplemental, which is on top of the $708 billion baseline budget submitted to Congress in February.
Most of the war supplemental – a separate account used to pay for war costs – will pay for Afghanistan operations. Of that, $2.6 billion is to train the Afghan national security force, seen as a long-term endeavor that Congress worries could become a burden over time.
When can US forces leave?
"The question is, how long is that going to have to continue to the point where we can kind of say we've done our thing," asked Sen. George Voinovich (R) of Ohio. "Five years, ten years, 15 years?"
That question is atop many lawmakers minds as they consider what the Obama administration has said from the start will take years to accomplish.
The Iraq security forces, now nearly 665,000 strong, took at least six years to build. But Iraq had more resources, and American trainers were already working within a culture in which a formal military existed under Sadaam Hussein. Afghanistan's modern history has never had a formal military structure, and there are even fewer resources in Afghanistan to support one.
Despite contributions from NATO countries, that still leaves the US holding much of the bag when it comes to training the Afghan indigenous force.
---