Afghanistan surge: Is the 'clear, hold, build' strategy working?
The influx of U.S. troops to Afghanistan aims to 'clear' Taliban from population centers, then 'hold' them until Afghans can 'build' normal lives. The Pentagon looks to the Iraq surge for lessons.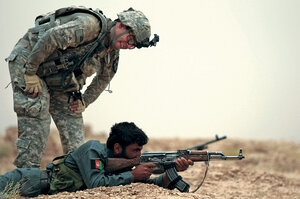 Tim Wimborne/Reuters
The surge of American forces President Obama directed to Afghanistan is under way. So far, 17,000 of the 30,000 additional forces are there, bringing the US total in Afghanistan to 86,000. The rest are expected on the ground by December, for a total of 100,000.
How have things been progressing so far, and what can be expected during the next year?
Has the surge had an impact yet?
The increase of Marine forces enabled the United States to conduct operations in the Marjah district of Helmand Province this winter, the first operation since the beginning of the surge. The Marjah offensive drove out some insurgents and tempered their influence in the area, at least somewhat.
In Afghanistan, where progress is expected to be incremental, the offensive has been seen as a success. In the wake of initial operations, markets opened, villagers returned, and some semblance of security emerged.
The next major operation is now beginning in Kandahar, arguably the second most important cultural, political, and economic city in Afghanistan after Kabul, and considered the spiritual home of the Taliban.
Those operations have begun quietly in recent weeks as more surge forces arrive.
---