PTSD: New regs will make it easier for war vets to get help
As many as 300,000 war vets from Iraq and Afghanistan have experienced post-traumatic stress disorder. Now, the process for getting treatment and compensation for PTSD is being streamlined.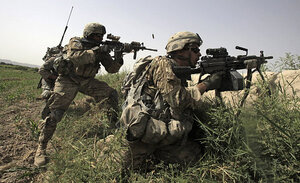 Bob Strong/Reuters
At least since the Battle of Marathon in 490 B.C., soldiers have recorded episodes of what we now call "post-traumatic stress disorder" (PTSD). Greek historian Herodotus wrote of a physically uninjured soldier who went blind when the soldier next to him was killed.
During the Civil War, PTSD was called "soldier's heart." In World War II, it was "battle fatigue." Studies estimate that nearly 30 percent of Vietnam veterans (some 830,000) have experienced some level of PTSD.
Today, more than 150,000 veterans of the Iraq and Afghanistan wars have been officially diagnosed with PTSD. The number likely is higher because of the stigma attached to the disorder and also because some service members have sought out private treatment rather than through the Defense Department or Department of Veterans Affairs (VA).
While some false claims no doubt have been filed, critics and veterans groups say many vets with legitimate claims have been denied adequate treatment or compensation because officials demanded documented proof of a specific trauma-causing incident. The RAND Corp. estimates that 300,000 Iraq and Afghanistan war veterans (some 20 percent of the total) have symptoms of PTSD or major depression.
---