As Iraq stalemate sets record, Pentagon concern for US troops grows
Iraq has been trying to form a government since elections in March – now a record for post-election futility. Pentagon officials are increasingly speaking up about the dangers of the situation.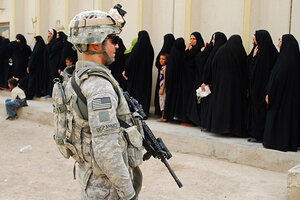 Reuters
Iraq officially broke the dubious world record Friday for going the longest stretch of time without a new government. As the US military warily eyed the approach of this particular milestone in the wake of the country's parliamentary elections in March, top US commanders issued increasingly dire warnings this week about what the impasse portends for US troops on the ground.
The commander of US forces in Baghdad, Brig. Gen. Rob Baker, told reporters that he has seen an uptick in violence aimed at Iraqi and US troops, including rocket attacks coming from the infamous militia stronghold of Sadr City. He wondered aloud about the impact this violence might have on, for example, the inclination of local Iraqis to help out security forces by phoning in to a tip line used to track insurgent activity.
Top Pentagon leadership has weighed in as well. "I'm increasingly concerned about [Iraq's] inability to stand up this government," Chairman of the Joint Chiefs of Staff Adm. Mike Mullen said Wednesday during a Monitor breakfast in Washington. "The politics there are, from my perspective, too slow."
"The longer that lasts, the more I and others worry about what does the future hold," he added.
These warnings are not idle attempts to pressure the Iraqi government into resolution. The US military is well aware that there are outcomes worse than stalemate – officials have not forgotten the violence that erupted on the heels of 2005 parliamentary elections.
---