Are Sadr militias rearming in Iraq's south?
A US general said he hasn't ruled out the involvement of militias close to Shiite cleric Moqtada al-Sadr in recent attacks in Iraq's south and says the movement is reasserting itself as a force in the area.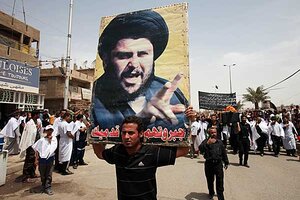 Karim Kadim/AP
A senior US general said forces loyal to Shiite cleric Moqtada al-Sadr are rising again in Iraq's south, engaging in intimidation, extortion, and political violence as politicians in Baghdad continue to negotiate over forming a government two months after national elections.
Maj. Gen. Vincent Brooks, in charge of US forces in nine southern provinces, said he has not ruled out involvement by Sadrist paramilitaries or splinter groups in a string of deadly attacks Monday across the south.
"There's evidence in the past that they're not at all reticent to intimidate and to murder their fellow Shiite citizens, so I do not exclude them," said Brooks, commanding general of the 1st Infantry Division, in a telephone interview from Basra.
The violence, which killed 119 Iraqis and wounded almost 300 in 10 separate attacks across the south, included an attack on an imam who has spoken out against the militias and the bombing of a mosque. [Correction: The original article misstated the number killed in the May 10 attacks.]
It will likely be unclear for some time who was behind the attacks – the deadliest in Iraq this year. But the reactivation of the Sadr militia known as the Jaish al-Mahdi (Mahdi Army) and other Shiite militias – not yet seen in Baghdad – would be a key warning sign of a resurgence of sectarian violence.
---