'Don't ask, don't tell': Can military handle a repeal of gay ban?
Repealing 'don't ask, don't tell' could have serious implications for some parts of the military. But critics of the law say the Pentagon is ready to embrace gays openly.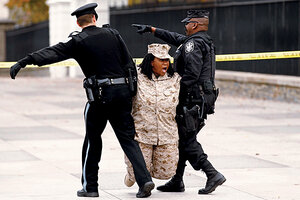 Kevin Lamarque/Reuters
It was in Iraq that Army Capt. Jonathan Hopkins learned he was to be promoted to the rank of major one year early – a considerable achievement.
It was also no surprise. In his career as an infantry officer, Hopkins had earned three bronze stars. As a high school student, his score on the Pentagon's aptitude test for military service was so high that recruiters encouraged him to apply to West Point. He did, and he graduated fourth among his peers in the Class of 2001. Hopkins then deployed once to Afghanistan and twice to Iraq, where the platoon he led helped secure Kirkuk in the war's first push.
Yet Hopkins remembers the day he received word of his potential promotion as the worst of his life: It was also the day he learned that he was being investigated for being gay.
"Don't ask, don't tell" had already shaped his life. The number of people he had told he was gay was "in the single digits," and he had virtually given up dating. "What if someone asked what I did over the weekend?" he would ask himself. "There is no way to keep your job without lying or covering things up."
---