Marine chief: 'don't ask, don't tell' repeal could be deadly 'distraction'
Gen. James Amos, commandant of the Marines, defended his position that 'don't ask, don't tell' should not be repealed, saying a repeal could cause problems among combat troops.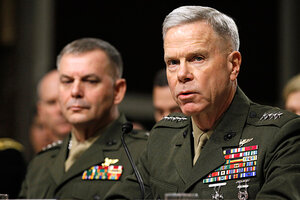 Alex Brandon/AP/file
The new commandant of the Marine Corps, Gen. James Amos, on Tuesday defended his decision to recommend against repealing "don't ask, don't tell" in Dec. 3 congressional testimony – a position at odds with Defense Secretary Robert Gates and Chairman of the Joint Chiefs of Staff Adm. Mike Mullen.
In a roundtable discussion with reporters, Amos said that a Pentagon report on the impact of repealing "don't ask, don't tell" "sent a very strong message" that marines were against repealing the ban. Though the report recommended repealing "don't ask, don't tell," it also found that nearly 60 percent of combat troops said that a repeal could have negative effects on the force.
"I take that very, very seriously," Amos said, adding he worried that openly gay troops in Marine Corps combat units would pull focus away from fighting.
---
Follow Stories Like This
Get the Monitor stories you care about delivered to your inbox.