Bin Laden videos as psy-ops: What US wants Afghan insurgents to see
Videos of Osama bin Laden released by the US paint the Al Qaeda leader in an unflattering light. US officials hope Afghan insurgents seeing them will decide to abandon the cause, lay down their arms, and reintegrate into society.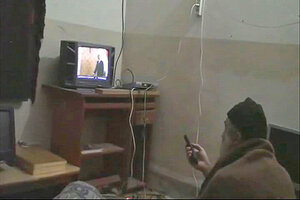 Department of Defense / AP / File
The videos of Osama bin Laden that the US has elected to release so far have an important common denominator: They portray the Al Qaeda leader in a less-than-flattering light – diminished, hunched, gray, and, perhaps, a bit self-obsessed. That is no accident.
The five short clips released to the press last weekend amount to powerful tools of psychological warfare. Not only are they intended to humiliate a widely reviled terrorist mastermind, but they are also careful strategy meant to make Taliban fighters and other insurgents think twice about the caliber of their leadership – and whether the burden of the fight is being fairly distributed.
"They've seen videos now of bin Laden sitting in a small room, looking at a TV of pictures of himself up there, kind of alone and desperate – not this, you know, this big leader that they thought he was," Maj. Gen. John Campbell, the commander of US troops in eastern Afghanistan, said at a Pentagon briefing Tuesday.
Officials have been quick to offer their interpretation of what those videos show, lest insurgents fail to see it. A senior US official characterized bin Laden as "living high on the hog" in a luxurious house, while his followers were fighting and dying in "dire conditions." The official also made a point of noting his penchant for dying his beard for video appearances, in a bid to suggest vanity and sleight of hand.
---