Top Afghan insurgents tout girls' education, not bombs
Hizb-e-Islami, a key militant group, is increasingly supporting many Afghan government priorities, such as girls' education. Such cooperation could boost peace efforts.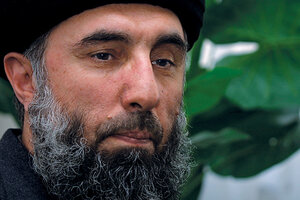 Caren Firouz/Reuters/File
When Vygaudas Ušackas became the European Union's ambassador to Afghanistan and traveled there recently, one of Afghanistan's main Islamic insurgent groups – Hizb-e-Islami – sent a welcoming delegation.
While the move may seem odd for a group known for fighting foreign forces, it is part of what appears to be an increasing effort by Hizb-e-Islami to position itself for a place within the political system. As the Afghan government struggles to make peace with insurgent groups and incorporate them into the system, this is a big deal: The cooperation of Hizb-e-Islami could be a major boost to the lagging peace process.
"[Hizb-e-Islami] is trying to get the support of the people. They realize that the people of Afghanistan are tired of the war and now they want to get involved in political and economic issues," says Rafi Wardak, a member of the provincial council in Wardak Province.
In what looks like an about-face from its battlefield mission, Hizb-e-Islami has also taken a number of positions seemingly in line with many of the Afghan government's objectives. It has publicly and carefully supported women's education, condemned attacks on reconstruction projects, and ordered its fighters to avoid the use of roadside bombs and other tactics that can inadvertently result in civilian casualties.
Taking a stand on policies
---