Pentagon vs. NRA: Will gun-rights law raise risk of soldier suicides?
A new NRA-backed law will make it virtually impossible to get private weapons out of the hands of some potentially suicidal soldiers, Army officials say. The NRA says the guns aren't the problem.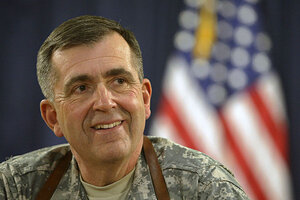 Reuters/File
Top military officials are speaking out against a new law backed by the National Rifle Association, which they fear will increase the danger of suicide among US troops.
The measure prohibits commanders from being able to "collect or record any information" about private firearms owned by US troops living off base.
The Army's No. 2 officer, Gen. Peter Chiarelli, expressed concern this week that this law amounts to a prohibition on commanders engaging in vital discussions with US soldiers about weapons and personal safety.
"I am not allowed to ask a soldier who lives off post whether that soldier has a privately owned weapon," he says.
While commanders are permitted to ask troops who appear to be a danger to themselves or others about private firearms – or to suggest perhaps locking them temporarily in a base depot – if the soldier denies that he or she is thinking about harming anyone, then the commander cannot pursue the discussion further.
Nearly half of all soldiers who commit suicide use a firearm, General Chiarelli points out. He added that "suicide in most cases is a spontaneous event" that is often fueled by drugs and alcohol. But "if you can separate the individual from the weapon," he added, "you can lower the incidences of suicide."
The problem, Chiarelli said, is that "we have issues in even being able to do that."
The NRA pushed for the law after receiving complaints from soldiers at bases across the country, says spokesman Andrew Arulanandam. In Fort Riley, Kan., commanders "imposed a preposterous regulation," according to the NRA website, that required soldiers to register firearms that they were keeping off base and authorized commanders "to set arbitrary limits on the caliber of firearms and ammunition their troops may privately own."
---