US considered missions to destroy RQ-170 Sentinel drone lost in Iran
The RQ-170 Sentinel drone lost over Iran is one of America's most valuable intelligence assets. It's unclear what brought it down - hostile fire or malfunction. Iran claims to have shot it down but has provided no photographs.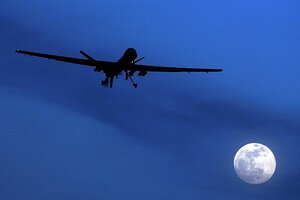 Kirsty Wigglesworth/AP
So valuable is the CIA-operated drone aircraft down in Iran that US officials considered launching an airstrike to destroy the advanced unmanned spy aircraft or sending in a special operations team to blow up or perhaps retrieve the super-secret RQ-170 Sentinel drone.
As first reported by The Wall Street Journal, the US idea was to deny Iran any information about the RQ-170 drone, information that could have been valuable to other US adversaries as well.
But in the end, trying to destroy or retrieve the RQ-170 inside Iran was ruled out.
"No one warmed up to the option of recovering it or destroying it because of the potential it could become a larger incident," a US official told The Wall Street Journal. An assault team entering the country "could be accused of an act of war" by the Iranian government, the official said.
In the days since Iran claimed to have shot down the RQ-170, little new information has been revealed about its design, capabilities, or mission.
What's known is that it is wing-shaped and that it is constructed of and coated with special materials to give it stealth capabilities to avoid enemy radar. Unlike other drones used in potentially hostile situations, it is not armed. Its full-motion video sensors allow it to track adversaries in real time, sending signals back to the military or intelligence officers controlling its mission. That feature was a key to the success of the Navy Seal Team that located and killed Osama bin Laden.
---