Sexual assault reports rise at military academies. How is Pentagon responding?
The Pentagon cites policy changes following the release of a study that found a 65 percent increase in reports of sexual assault at military academies between 2010 and 2011.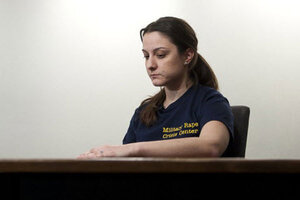 Cliff Owen/AP
There has been a worrisome increase in the number of sexual assaults reported at America's military academies, according to a congressionally mandated study released Tuesday by the Pentagon.
"One sexual assault is too many," Defense Secretary Leon Panetta said in a statement in the wake of the study – which found a 65 percent increase in reported incidents of sexual harassment and violence between 2010 and 2011. "We treat each other with dignity in this institution. I expect everyone in this department to live up to that high standard."
The Defense Department said it was implementing some changes in policy in the wake of the study findings, including new policies that senior defense officials said were meant to improve the treatment of assault victims at the academies.
However the most concrete policy change, which facilitates the speedy transfer of assault victims should they wish, also obliges them to surrender a degree of protective anonymity.
The study found that there had been 65 reports of sexual assaults at the academies between 2010 and 2011, compared to 41 the previous year. It did not specify whether the number of reported incidents was indicative of a wider unreported problem, as is often the case with sexual assaults.
---