Is Afghanistan worth it? US doubts rise after Quran burning violence.
An Afghan soldier killed two Americans in retaliation for the US Quran burning – and the Afghanistan government offered no apology. It suggests that the relationship is fraying after 10 years of war, some say.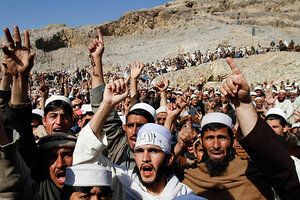 Rahmat Gul/AP
The violent riots and cold-blooded killing of two US military advisers Thursday by an Afghan soldier upset over the US military's burning of Qurans are raising increasingly urgent questions among troops about whether mission in Afghanistan is worth it – both in the cost of nearly 2,000 American lives and the billions of dollars that the cash-strapped US has poured into the country.
For many, the question is one of gratitude. Though the Pentagon says the burning may have been a mistaken attempt to destroy books in which prisoners were passing extremist messages, rioting Afghan crowds are still chanting "Death to America." Does the act of burning Qurans really overshadow all the "blood and treasure" America has spent in Afghanistan?
Even for others, who are inclined to be more sensitive to the deep offense created by burning Qurans, the past two weeks have been troubling. When Afghan President Hamid Karzai feels no need to apologize for a member of the Afghan Army killing two Americans, it is a sign of a perhaps irrevocably broken partnership, says retired Col. Peter Mansoor, former executive officer to Gen. David Petraeus during the height of the insurgency in Iraq.
"If it's not a true partnership, then why should we sacrifice American blood and treasure?" says Colonel Mansoor, who is now a professor of military history at Ohio State in Columbus. "Americans have cultural sensitivities, too. Maybe we're so sensitive to Afghan culture that we're forgetting our own."
---