Afghan shooting spree: What did Sgt. Robert Bales's commander know?
The top US commander in Afghanistan says the shooting spree in which Robert Bales has been charged, as well as a recent Quran burning and a video of Marines urinating on dead Taliban are all examples of a failure of good oversight from commanders.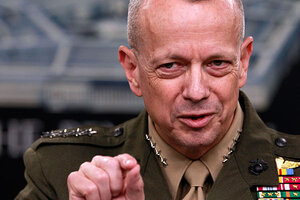 Haraz N. Ghanbari/AP
To what extent do US military commanders bear responsibility for the bad behavior of the troops in their units?
That's the question that Pentagon officials are grappling with in the wake of the shooting spree by an American soldier that left 17 dead, as well as the burning of Qurans by US troops earlier this month – which followed closely on the heels of revelations that US Marines, including a squad leader, had urinated on dead Taliban fighters.
"Each one of those was a result of a leadership failure in some form or another," Gen. John Allen, the top US military commander in Afghanistan, acknowledged at a Pentagon briefing earlier this week.
To that end, he said he is speaking with chaplains, surgeons, and senior noncommissioned officers, "all of whom are taking the temperature, if you will" of what in military parlance is known as the "command climate" – or general state of morale and discipline – in various units.
Some wonder aloud whether the strain of repeated deployments, which could contribute to boredom or compassion fatigue or simple exhaustion – might be causing military leaders to miss or dismiss the actions of some of their soldiers. Others point out that Staff Sgt. Robert Bales, who stands accused of the shooting spree, was reportedly drinking alcohol in his quarters with other soldiers before he walked off the base and allegedly committed the murders.
General Allen downplayed the prevalence of such command failures. "As I think back across how many tens of thousands – hundreds of thousands – of our forces that have served in Afghanistan... These incidents have been so infrequent," he argued. "And so repeated tours in Afghanistan, and prior to that, in Iraq, don't inherently reduce the effectiveness of the force or reduce the effectiveness of small-unit leadership."
---