Pentagon warns that US faces IED threat at home
The roadside bombs (improvised explosive devices) so deadly to US troops in Afghanistan are also being deployed against Americans at home, as the Pentagon adapts wartime strategies to help counter the threat.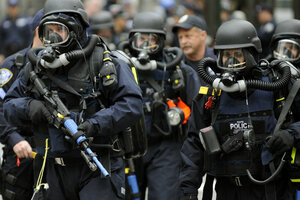 Timothy A. Clary/AFP/File
What is the danger that improvised explosive devices – the sorts of roadside bombs routinely used in Afghanistan, for example – could be used on highway overpasses in the United States?
And could these IED's be used in combination with a cyber attack – a terrorist who might use, say, a cyber-trigger to detonate a roadside bomb?
As the war in Afghanistan winds down, US military officials are wrestling with these questions – and how to take the lessons they have learned overseas and apply them to defense of the homeland.
"It is clear the IED is the primary weapon of choice" for terrorist networks and, as a result, "is one of the enduring operational and domestic security challenges for the foreseeable future," says Lt. Gen. Michael Barbero, director of the Pentagon's Joint Improvised Explosive Device Organization. "The domestic IED threat from both homegrown extremists and global threat networks is real and presents a significant security challenge for the United States."
Since 2007, IED incidents outside of Iraq and Afghanistan have increased to more than 500 per month. The United States is among the five countries who have had the greatest number of IED events since January 2011, Barbero told a House Homeland Security subcommittee this month. This includes more than 10,000 attacks in 112 countries – rounding out the top five are Colombia, Pakistan, India, and Syria – executed by 40 regional and international terrorist networks.
---