Where in Pakistan did Faisal Shahzad learn bomb-making skills?
Jihadi training camps in Pakistan – like the one Times Square car bomb suspect Faisal Shahzad said he attended – have taught bombmaking and other skills to militants since the 1980s.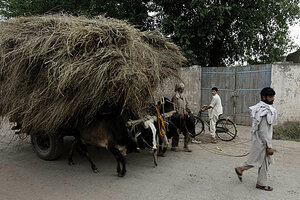 Mohammad Sajjad/AP
Peshawar and Lahore, Pakistan; New Delhi
Faisal Shahzad, the suspect in the attempted New York City Times Square bombing, has told investigators that he had received bombmaking training in the Pakistani region of Waziristan.
Typically, such training takes place in camps tucked away in mountainous regions like Waziristan, protected by the rugged terrain and lack of government. It's not known yet at which camp Mr. Shahzad may have spent time.
Despite a yearlong offensive by the Pakistani military and an escalation in the use of American drones, terrorist training camps have proved difficult to wipe out. Reasons include the minimal infrastructure of the camps, their remote locations, and, at times, official acquiescence.
"The whole area is under the American and Pakistani surveillance with drone technology, so whatever training is going on must be inside compounds and must be in very well-protected areas," says Rifaat Hussein, a security expert at Quaid-i-Azam University in Islamabad.
---