Veterans Day: When vets run afoul of the law, these courts care
Modeled after local drug or family courts, veterans courts are springing up, stressing rehabilitation and mentoring over jail time. Is it special treatment, or deserved consideration?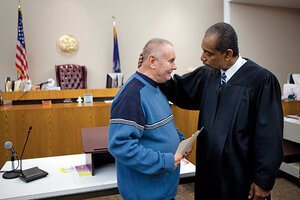 Melanie Stetson Freeman/Staff
In a downtown building that looks like a bunker, Judge Robert Russell Jr. ascends to the bench of his courtroom with a greeting that more closely resembles an Army cadence than a call to order.
"Good afternoon!" Judge Russell says to those assembled before his bench.
"Good afternoon, Judge!" they yell back in robust unison.
Even on a typical day, this is not a typical courtroom. The Buffalo Veterans Treatment Court is the first of its kind in the nation – a court of law only for US military veterans who have run afoul of the law, and only for those willing to exchange jail time for a year of counseling, treatment, and tough love.
But this day is not about stern words and legal sentences. It begins with a graduation ceremony for those who have made it through. One receives a "challenge coin," to mark a job well done, and all receive a reminder "to be mindful of the people, places, and things that put us at risk."
Then Russell comes down off the bench to give them a hug.
"I'm going to stay straight," one graduate says. "No more drinking, no more gambling."
This Veterans Day, the Buffalo Veterans Treatment Court's program is being held up as a model. Of the 90 vets who have graduated, none has been rearrested, and the idea spawned in the municipal courts here is spreading. Built in the image of local drug courts or family courts, some 100 military veterans courts have been established in city courts nationwide, according to the Department of Veterans Affairs. And the VA expects that number to double in the next year alone.
The need is clear. Across America, 1 in 10 criminals is a US military veteran, according to US Department of Justice statistics. Russell and others believe that these rates are closely tied to the experience of going to war.
A 2008 RAND Corp. study found that one-fifth of all US military service members who have returned from Iraq and Afghanistan report grappling with post-traumatic stress or major depression. Yet half of these former troops say they have never sought treatment, either for fear that it will harm their careers, or because they have trouble navigating the military medical bureaucracy.
---