Too much religion at military academies? West Point cadet revives charge.
Citing overt religiosity on campus, a West Point Academy cadet publicly quit this week just months before graduation. This is not the first time the military has come under fire for practices that nonreligious students see as aggressively evangelical.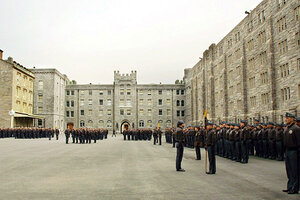 Jim McKnight/AP/File
When Blake Page announced this week that he was quitting West Point a few months before graduation, citing the overt religiosity on campus, he raised recurring questions about the pervasiveness and impact of evangelical Christianity within the ranks of the US military.
"I do not wish to be in any way associated with an institution which willfully disregards the Constitution of the United States of America by enforcing policies which run counter to the same," Mr. Page wrote in his letter of resignation to the US Military Academy at West Point, in New York.
He cites, among other things, routine prayers at mandatory events for cadets and the practice of awarding off-campus passes and credit to students who take part in religious retreats and chapel choirs. These activities, in turn, foster "open disrespect of non-religious new cadets," Page argued, adding that he had been told at West Point that it was not possible for people to have morals without believing in God.
This is not the first time such charges have been leveled within a military training academy. The US Air Force Academy came under similar criticism in 2005 for conferring preferential treatment on cadets who were evangelical Christians and promoting proselytizing in the ranks.
A survey commissioned by the Air Force Academy in 2010 showed some improvements in the climate of religious tolerance on campus, but also found that many cadets still felt pressured to take part in religious activities. Nearly half of the non-Christian cadets surveyed, for example, said their fellow students have a "low tolerance" for atheists, a 20 percent jump from a similar 2008 survey.
Charges of evangelism went international when the Pentagon came under fire in 2010 for using gun sights engraved with Bible verses, fueling concerns that the war in Afghanistan would be seen as a military crusade. Some Pentagon officials at first dismissed complaints against the gun sights, comparing them to US currency engraved with "In God We Trust," but senior officers demanded that the military stop using them.
---