Special schools for pregnant girls?
An Idaho school scrambles for funding, saying it helps more teen moms graduate.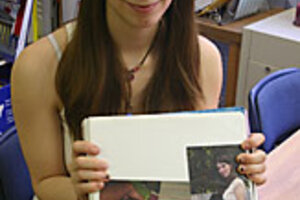 Ben Arnoldy
Soon after getting pregnant, high school sophomore Alicia Mattocks worried that bullies might purposely slam her into a locker and that a teacher's rules wouldn't allow frequent bathroom runs.
But it was the thought of not having to go to school quite so early, when she felt her worst, that pushed her to transfer to the Marian Pritchett School, an alternative public school in Boise for pregnant and parenting students. That decision, she says, saved her from dropping out.
A senior now, she plasters her binders with photos of her son, Ryder. This June, she'll mark another milestone: On her head will be a tasseled square cap.
Pritchett school, however, faces a funding shortfall because state grants that fund it have dried up. Separate schools for pregnant teens have dwindled in recent years because of concern for educational equality, budget constraints, and changing social mores.
But with one-third of all girls who drop out citing motherhood as a reason for leaving, these specialty schools from a bygone era may yet hold some lessons about how to keep kids in school. "The support for these specialized programs is critical in that they provide models of possibility in what can be done in school systems," says Wendy Luttrell, a professor at the Harvard Graduate School of Education.
---