In Scott Brown's surprise success, a GOP template for midterms?
In the Martha Coakley vs. Scott Brown face off for the Massachusetts Senate seat, Republican Brown has come from behind in a campaign focused on fiscal responsibility. That could be a template for the GOP in this year's midterm elections.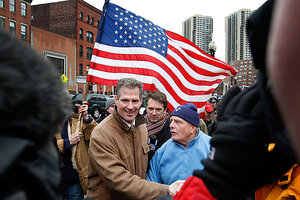 Robert F. Bukaty / AP
Regardless of the outcome, the jump ball Senate race in Massachusetts on Tuesday will be the template for the 2010 midterm elections, at least for come-from-behind Republicans.

Dark horse GOP candidate Scott Brown shredded Democrat Martha Coakley's 30-point lead with a campaign on fiscal responsibility and reining in big government spending and entitlements. Analysts say Ms. Coakley also contributed to the debacle with a lackluster campaign and a series of gaffes.
"If Brown ends up winning tomorrow, it's certainly a sign of tsunami in November this year in favor of fiscally conservative candidates," says Chris Chocola, president of the Club for Growth, which supports candidates who favor limited government and low taxes.

"It's a strong commentary on the rejection of the healthcare bill and an overall rejection of Obama's policies, especially on spending issues," he adds. In this election cycle, the Club is targeting not just Democrats but also Republicans such as Sen. Robert Bennett (R) of Utah, who are seen as not fiscally conservative enough.

But the midterm elections are still 287 days out, and there's plenty of time for learning and stumbles, say campaign analysts.
---