Scott Brown vs. Martha Coakley: will bad weather affect vote?
As the Scott Brown vs. Martha Coakley contest for the Massachusetts Senate seat comes to a head, some experts say bad weather on voting day Tuesday could help Democrat Coakley.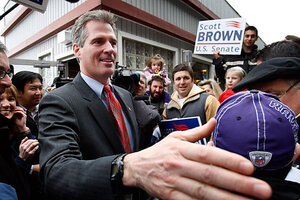 Robert F. Bukaty / AP
When voters head to the polls Tuesday to vote in the Massachusetts Senate race, they might have to battle snow and rain to get there. Will that help either candidate?
The forecast in many parts of the state calls for cold, wet weather – which could keep some voters at home.
That could ultimately benefit Democratic candidate Martha Coakley, says pollster David Paleologos of Suffolk University in Boston, who has conducted polling on this race.
Because the worst weather is supposed to hit the more conservative towns of northern and western Massachusetts, voters who might typically favor state Sen. Scott Brown (R) could have a more difficult time making it to the polls, Mr. Paleologos says.
Voter turnout is already expected to be lower than in a regular November election. People aren't used to having to vote this time of year and there's only one seat on the ballot.
"We have no idea what normal turnout would be because we've never done this before," says Dan Payne, a Democratic media consultant based in the state. "It's such a weird animal we have here. A January election is something we've never done."
High-stakes race
But this race has also received unexpected national attention due to its implications for healthcare reform and other issues crucial to President Obama's agenda.
---