Three ways healthcare reform could pass even if Coakley loses
The Democrats will lose their filibuster-proof 60-seat majority in the US Senate if Scott Brown defeats Martha Coakley in the Massachusetts special election Tuesday. There are at least three ways Democrats could still pass healthcare reform, but each would be problematic.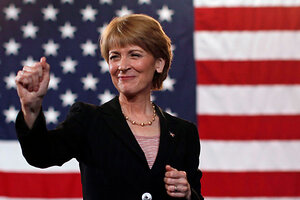 Jim Young / Reuters
It's an extraordinary political situation: The fate of healthcare reform now may be determined by the outcome of Tuesday's Senate election in Massachusetts.
If Republican Scott Brown beats Democrat Martha Coakley in the special ballot to fill the late Sen. Edward Kennedy's seat, as now seems possible, the GOP would have 41 Senate votes. That would be enough to block final passage of the House-Senate compromise on healthcare legislation that Democratic lawmakers are now negotiating under President Obama's oversight.
If this happens, Democrats basically have three options:
1. TALK FASTER. House and Senate Democratic leaders could cobble together a final package at a more rapid pace and push it through both legislative chambers before the new Senator Brown is seated.
Pros: This would enable Democrats to settle their differences in the manner they had originally planned. Liberal House members would get their chance to move the final legislation leftward from the Senate's more conservative version.
---