Massachusetts Senate race: let the blame game begin
Win or lose the Massachusetts Senate race, Martha Coakley should have run a better campaign against Scott Brown, political strategists say. Now, Democrats are asking: What went wrong?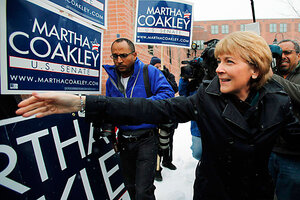 Brian Snyder / Reuters
The blame game has already started.
Regardless of who wins Tuesday's Massachusetts Senate race, Democrats know they have a lot of explaining to do. The fact that the race is even competitive is alarming enough to a party and president laboring to pass a major reform of the healthcare system. The fact that Republican state Sen. Scott Brown may well win in reliably liberal Massachusetts – taking over the seat of the late Edward Kennedy – is cause for deep soul-searching.
But even before the votes are counted, the early blame is going first and foremost to the Democratic candidate herself, state Attorney General Martha Coakley. She won the Democratic primary handily on Dec. 8, then appeared to go to sleep. Early polling against Mr. Brown showed her winning by 30 points. With nothing to lose, Brown hopped in his 2005 GMC Canyon pickup truck and campaigned energetically around the state.
Ms. Coakley, diffident on the stump, also went light on television and campaign ads, and seemed confident that her momentum out of the competitive primary would carry her to an election day victory just six weeks later. But she and her campaign ignored the warning signs, say Democratic analysts.
A 'toxic' political environment
"You've got an environment that's pretty toxic," says Peter Fenn, a Democratic media strategist based in Washington. "You can't take anything for granted."
---