Mr. Brown goes to Washington, signs his autograph '41'
For now, Massachusetts' Scott Brown has rock-star status as the favorite of conservatives. But when he's a working senator, he may break with fellow Republicans on some issues.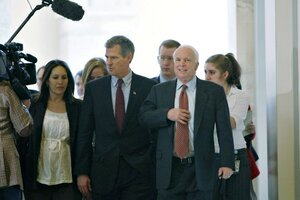 J. Scott Applewhite/AP
Even before Senator-elect Scott Brown arrived on Capitol Hill for visits with colleagues Thursday, he was shaking things up.
As the 41st Republican, his presence gave back to minority Republicans the filibuster option they lost in the last election. It forced Democrats to review strategy for completing the healthcare reform bill that Brown campaigned to defeat. It brightened prospects for GOP recruitment drives for Campaign 2010.
And "it's certainly improved everyone's mood," said Sen. Lisa Murkowski (R) of Alaska, clearly referring mainly to Republicans.
His morning rounds included a first stop with Sen. John McCain (R) of Arizona, an early backer.
"Senator McCain, as you now know, was one of the first people to actually, you know, look me in the eye in this very office and say, 'Well, it's a long shot, but I'm with you if you feel you can win it'," Brown told reporters.
Meets with Democrats too
Meetings with colleagues across the aisle were also cordial. Rep. Patrick Kennedy (D) of Massachusetts, who met Brown this morning with the rest of the state delegation – all Democrats – says he was pleased by Brown's kind words for his father, the late Sen. Edward Kennedy, and the Kennedy family.
"Politics aside, he's now one of our colleagues, and we'll work together," he said.
Brown tells reporters that he's also open to working with Democrats.
---