Scott Brown Senate win leaves Obama, Democrats scrambling
Scott Brown's Senate victory in Massachusetts has shifted the political landscape. Endangered Democrats are likely to play it safe, and some might retire.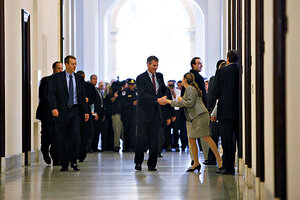 Scott Applewhite/AP
It was the shot heard round the political world.
And like the start of the American Revolution, another Massachusetts event, the improbable victory of Republican Scott Brown in the special Senate election this week, has permanently altered history.
Suddenly, with the loss of the Democrats' 60-seat filibuster-proof majority in the Senate, President Obama's agenda is in jeopardy.
A far-reaching overhaul of the healthcare system, close to completion before the Massachusetts vote, may now be beyond reach. A second economic stimulus package, already a steep legislative climb amid concerns over government spending, just got steeper. Financial regulatory reform is in doubt. Climate-change legislation is probably off the table.
The political landscape has also shifted. Already-endangered Democrats are likely done taking risky votes. And presumably safe Democrats are now looking over their shoulders, wondering if they, too, might be vulnerable come the November midterms.
The good news for Mr. Obama and the Democrats is that they have 10 months to retool and regroup. In fact, some analysts say, the loss of the Massachusetts seat could in one sense be a blessing in disguise for the Democrats, as it has shown them just how endangered their congressional majority is.
Obama must win back supporters
The question is how to regain the confidence of former supporters, especially the independent voters who backed Obama in 2008 and who swung decisively toward the Republicans in the last three statewide races: Massachusetts, plus last November's gubernatorial elections in New Jersey and Virginia.
---