Illinois's Pat Quinn wins primary, but Scott Lee Cohen issue looms
After a close vote in Tuesday's Illinois primary, Gov. Pat Quinn has emerged as the Democratic candidate for that office. But he's calling for Scott Lee Cohen, the Democratic candidate for lieutenant governor, to step aside.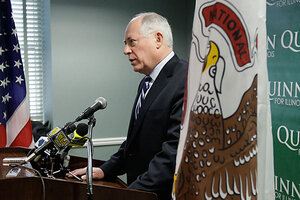 M. Spencer Green / AP
The Democratic candidate for Illinois governor was finally decided Thursday, two days after the primary produced a slim lead for incumbent governor Pat Quinn over opponent Dan Hynes.
Mr. Hynes initially said the results were too close for him to concede, but he then decided against a recount. In a press conference Thursday morning, he declared his campaign was at an end.
"The people have spoken, and the votes have been counted," Hynes said. "And if democracy means anything, it means that the campaign with more votes wins."
At a separate news conference later in the day, Governor Quinn said that Hynes, with whom he had a bitter rivalry, "has the heart of a lion."
Hynes's announcement did not end the political uncertainty in this state following Tuesday's primary: The Republican candidate for governor remains to be determined.
The top GOP vote-getter was state Sen. Bill Brady, but his lead is currently just 406 votes over state Sen. Kirk Dillard. Neither candidate has spoken publicly about the results. Absentee and provisional ballots still need to be counted, but after that, a recount is likely.
---