Patrick Kennedy's planned retirement deals Democrats another blow
Patrick Kennedy will officially announce Sunday that he will not seek another term in the House. Republicans were already targeting his Rhode Island seat.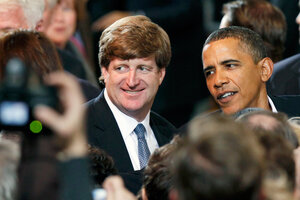 Michael Dwyer/AP/File
The departure of Rep. Patrick Kennedy (D) of Rhode Island, who is retiring at the end of the year, could leave the next Congress without a member of the Kennedy family for the first time in nearly half a century.
"We all know how difficult the past few years have been," Kennedy said in a video ad to air on Sunday – noting both the struggles of Rhode Island families, as well as his own loss in August of his father, Sen. Edward Kennedy.
"Now having spent two decades in politics, my life is taking a new direction," he said.
Kennedy was first elected to Congress in a tough year for Democrats, who in 1994 lost control of the House they had held for 48 years. His announced departure comes at what could be another rough campaign season for Democrats.
More Americans now say they would vote for the Republican candidate (39 percent) than the Democratic candidate (35 percent), if midterm House elections were held today, according to a Franklin & Marshall College National Poll released on Friday. In September, Democrats led Republicans on a generic House ballot 43 percent to 30 percent.
Kennedy, who often won his reelection bids with a 30-point spread, was down to a 35 percent approval rating in his district, according to a local WPRI-TV television poll last week – a trend confirmed by private polls.
Republicans already targeting the seat
Republicans had targeted Kennedy's seat as a possible pickup even before today's reports of a resignation. "Given the direction things are headed both in the Northeast and in the country, Democrats are sinking in popularity," says Greg Blair, a spokesman for the National Republican Campaign Committee.
---