Why Harry Reid is stripping down jobs bill
In paring down the jobs bill, Senate majority leader Harry Reid has an eye on voter concerns about federal spending. He's also betting that Republicans won't reject a bill with 'jobs' in the title.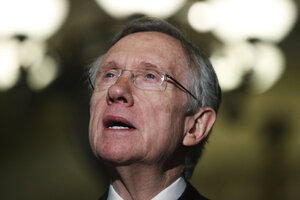 AP Photo/Manuel Balce Ceneta
In Washington, reaching bipartisan agreement on anything is tough these days. Yet Senate majority leader Harry Reid (D) of Nevada has just scrapped a jobs bill that had both Democratic and Republican support. What's he thinking?
Senator Reid appears to be making a political calculation that the GOP will have a difficult time voting against his own, stripped-down version of jobs legislation. That's because Reid has left the bill's central job creation provisions intact, while jettisoning tax breaks and other provisions intended to win Republican support.
He is virtually daring his colleagues on the other side of the partisan aisle to oppose a measure with the word "jobs" in the title at a time when unemployment remains stubbornly high.
"The Republicans are going to have to make a choice ... I don't know in logic what they could say to oppose this," said Reid on Thursday when announcing his move.
---