Obama healthcare plan omits public option
The Obama healthcare plan, unveiled Monday, would rein in rate hikes, and includes an exchange where people can shop for coverage, but not a public option.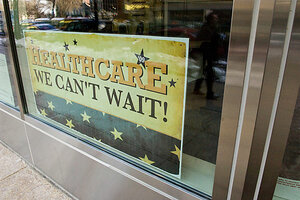 Scott J. Ferrell/Congressional Quarterly/Newscom
President Obama unveiled Monday his own plan for comprehensive health insurance reform, based largely on legislation the Senate passed in December. In a bow to Republicans, the plan includes new GOP-backed provisions designed to crack down on waste, fraud, and abuse.
Despite hints leading up to Monday's unveiling that Mr. Obama's plan would include a "public option" – a government-run insurance plan designed to compete with private insurers – it does not. But his plan does set up an insurance marketplace, or "exchange," in which consumers can shop for coverage. The plan would also create new federal authority to rein in rate hikes deemed exorbitant, a hot issue following double-digit increases announced earlier this month by Anthem Blue Cross of California.
Like both the House and Senate versions, the plan includes a mandate that individuals purchase insurance, and bans insurers from excluding consumers with preexisting conditions.
The plan, posted on the White House web site, represents Obama's opening bid in advance of a bipartisan healthcare summit on Thursday. In a conference call Monday morning, a senior administration official suggested Obama is prepared for Congress to use a legislative procedure called "reconciliation," which requires only a majority of votes to gain passage – and not the 60 Senate votes needed to overcome a filibuster.
---