Toyota hearings: senators say carmaker put profit over safety
Toyota hearings resumed Tuesday on Capitol Hill, as lawmakers pressed three top officials on what the company knew and when they knew it. In Japan, there's a suspicion the recalls are about rolling back the carmaker's market share.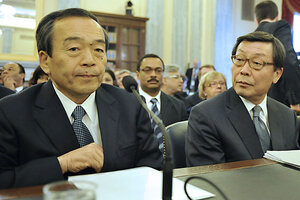 Zhang Jun/Xinhua
Call it a tale of two conspiracies.
For many US lawmakers, the heart of the Toyota self-accelerating car debacle is a decision by top Japanese officials to put profit ahead of safety. Meanwhile, in Japan and some US business editorial pages, there's suspicion that the US recalls are all about rolling back Toyota's market share.
"Safety took a second seat to profits," said Sen. John (Jay) Rockefeller (D) of West Virginia, who chaired a day-long hearing Tuesday by the Senate Commerce, Science, and Transportation Committee on the Toyota recalls and the government's response.
"In Japanese culture and Japanese corporations, things do not happen by chance, they happen by decision," he added at the end of Tuesday's hearing. (Senator Rockefeller spent three years in Japan as a university student and helped bring a Toyota plant to Buffalo, W.Va.)
Senators pressed three top Toyota officials on what the company knew and when they knew it – and when, senators allege, corporate priorities shifted from safety to profit.
---