Healthcare reform: 'Fixes' to bills are first major hurdle
House and Senate still have to work out tough issues on healthcare reform, including funding and abortion. The devil could be in the details – including 'fixes' House members want made to the Senate bill.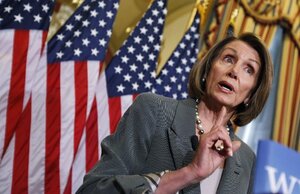 Manuel Balce Ceneta/AP
With a White House target date of March 18, House Democrats are scrambling to find a majority to vote for the Senate's healthcare bill – with "fixes."
The fixes are the first, essential step toward meeting that target. House leaders say they are close to an agreement on a package of discreet policies to bridge the gap between House and Senate bills.
"We are close to an agreement on the fixes," says Nadeam Elshami, a spokesman for House Speaker Nancy Pelosi.
Funding a key stumbling block
A key stumbling block has been the funding mechanism. The Senate bill is financed largely by a tax on relatively expensive health insurance plans. Labor unions, who deferred pay increases in favor of more generous health plans, strongly oppose that funding plan and are heavily lobbying House members to change it. (Monitor report: Three ways the House may derail Obama's plans)
Speaker Pelosi says that 80 percent of taxation on the so-called Cadillac plan has been eliminated. The House is also pushing to repeal a provision added by Sen. Ben Nelson (D) of Nebraska that exempted his state from paying to expand access to Medicaid. Negotiators are also working on ways to make healthcare more affordable for the middle class.
"When I talk to my members, I have to have two important pieces of information: One is, what is the final status of the bill? And two, what is the Senate going to do about it?" said Speaker Pelosi at a briefing on Thursday. "What we're showing them is that in the legislative process, the substance has moved much closer to the House."
---