House Republicans, besting Democrats, will ban all earmarks
House Republicans said Thursday they will adopt a unilateral, one-year ban on funding requests for all member projects, or earmarks. House Democrats put forward a partial ban the day before.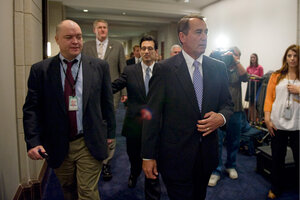 NEWSCOM
Call it the great earmark race.
Since Democrats took back control of the House in 2007, March has been the season for members in both parties to rush to complete paperwork for the next fiscal year's earmarks, or member projects, for their districts.
But this year, both parties are competing to distance themselves from a practice dubbed "the gateway drug to corruption" or spending addiction.
On Wednesday, top Democrats on the House Appropriations Committee announced a ban on corporate earmarks. The move, backed by Speaker Nancy Pelosi, bans provisions that direct spending to for-profit entities, especially those dealing with the Pentagon.
In a bid to trump that move, House Republicans on Thursday announced a unilateral, one-year ban on all earmarks. "The American people see this earmark process as an example of a broken Washington," said Republican leader John Boehner, after a caucus meeting on Thursday.
"We're not going to get to a cleaned-up process until we break from the past, and I do believe that this earmark ban that our members agreed to today is a big step in the right direction," he added.
The decision came after a spirited, closed debate in the Republican caucus. Some members argued strongly that members' projects are part of Congress's constitutional responsibility under Article I, and that leaving decisions on all spending within a member's district to federal bureaucrats is an abrogation of that responsibility.
---