Has Blanche Lincoln lost the women's vote in Senate race?
Incumbent Sen. Blanche Lincoln faces a runoff in the Arkansas Democratic primary Tuesday. As a centrist, she has angered many Democrats, and women could be a key voting bloc.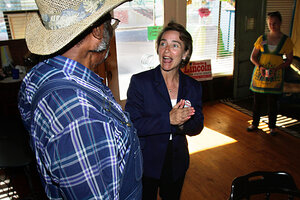 Danny Johnston/AP
In the past, incumbent Sen. Blanche Lincoln could have counted on Nancy Baker's vote. But on Monday, the Little Rock voter was on the city's River Market to shake the hand of Senator Lincoln's opponent, Lt. Gov. Bill Halter.
"She has forgotten the Democratic party," Ms. Baker said of Lincoln. "We refer to her as the plantation princess. She's gone completely to the right."
With a stern challenge from Republican candidate John Boozman looming in the general election, Lincoln has sought to play up her centrist principles. One campaign ad highlighted her votes against Obama administration priorities, from the health-care public option to cap-and-trade energy reform.
Now, she is in danger of not even making it to the general election, and her drift to the right has apparently alienated one of her strongest voting constituencies: women.
In the May 18 Democratic primary, Lincoln beat Lieutenant Governor Halter 44.5 percent to 42.5 percent, with a third candidate taking 13 percent of the vote. But with the runoff between Lincoln and Halter coming Tuesday, a recent poll shows Halter holding a four-point lead – precisely the poll's margin of error.
---
Follow Stories Like This
Get the Monitor stories you care about delivered to your inbox.