Senate Democrats to Obama on energy bill: Help us
Senate Democrats feel pressure to 'do something' on the long-stalled energy bill. The Gulf oil spill has widened the partisan divide. The White House will hold a bipartisan meeting Wednesday.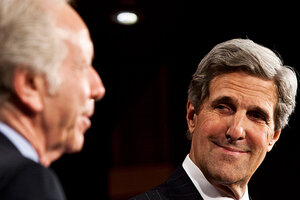 Drew Angerer/AP
Senate Democrats are taking a fresh run at energy legislation this week, beginning with a bipartisan White House meeting on Wednesday and a Democratic caucus meeting on Thursday to find common ground.
The hope that the Gulf oil spill disaster might break partisan deadlock as 9/11 did – leading to a flood of new legislation – has not come to pass. So far, it has only reinforced the partisan tensions.
Moreover, Democrats are divided among themselves on the way forward. Options range from a comprehensive energy and climate change bill that sets caps for carbon emissions on one hand to two competing measures that establish renewable-energy mandates for utility companies. None of these options has the 60 votes needed to pass the Senate without a filibuster – or even to muster all the Democratic votes.
To get a bill, President Obama will have to take a stronger role.
"It's pretty clear that we have to do something," said Senate majority leader Harry Reid after a caucus luncheon on Tuesday. "A lot depends on what the White House is going to do to help us get something done."
Democrats' search for 60
In the run-up to Wednesday's meeting, Senate Democrats have been proposing scaled-down versions of energy legislation in a bid to get to 60 votes.
---