David Cameron grilled over alleged BP role in Lockerbie bomber case
At the White House to discuss Afghanistan and the global economy, British Prime Minister David Cameron was instead questioned by reporters about allegations that BP pressured Scotland to free the Lockerbie bomber in a bid to improve business ties with Libya.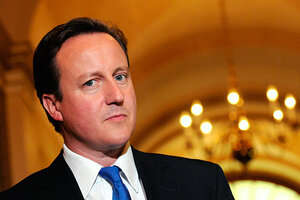 Jonathan Ernst/Reuters
Afghanistan and economic recovery may have been the preferred topics when President Obama met at the White House Tuesday with British Prime Minister David Cameron. But for the press, which got a few minutes with the two leaders at an East Room press conference, the focus was BP.
The British oil company, which is responsible for the Gulf of Mexico oil spill, is now more deeply embroiled in controversy over allegations that it lobbied the Scottish government last year to release Lockerbie bomber Abdel Baset al-Megrahi. Allegations have resurfaced in the British press that BP wanted Mr. Megrahi freed to improve prospects for oil projects in Libya.
Megrahi was ultimately released by Scotland last August on humanitarian grounds amid much international uproar.
---