If BP qualifies for $10 billion cleanup tax break, should it get one?
BP says it will seek a $9.9 billion tax write-off based on the $32 billion it expects to spend on Gulf oil spill cleanup and recovery. One US senator is already calling for hearings to prevent it.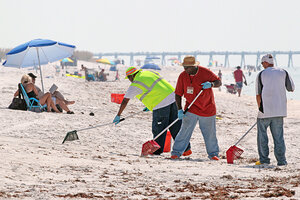 Dave Martin/AP
As the Gulf oil spill disaster wanes, attention has turned to the White House's ability to hold BP to its promise of "making the Gulf whole again."
Nearly two months after President Obama told the American people that BP would pay all cleanup costs, at least one US Senator is questioning whether the oil giant should receive a $9.9 billion tax break based on the $32 billion it expects to spend cleaning up after the Deepwater Horizon disaster.
The oil giant announced last week its intention to seek the tax break after agreeing to a deal with President Obama on June 16 to establish a $20 billion escrow account to pay financial damages related to the spill. So far, however, no money has been added to the fund amid ongoing negotiations between BP and the Department of Justice.
"The [$20 billion deal] was a moment in which [Obama] was perceived to have moved from a spectator to the one in charge, the boot on the neck idea – it was very, very important," says Bruce Buchanan, a political science professor at the University of Texas, at Austin. The tax write-off issue and the unresolved escrow deal, however, "does bring the American people back into the game," he adds.
---