Burning Koran a 'recruitment bonanza' for Al Qaeda, Obama says
The president appealed to a Florida pastor not to go through with burning Korans on Saturday, saying the act would be 'completely contrary to our values as Americans.'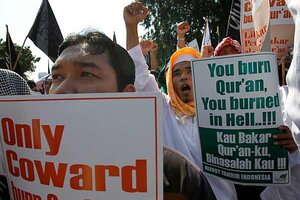 Reuters
President Obama appealed to a Florida pastor Thursday not to burn copies of the Koran on Saturday, the anniversary of the 9/11 attacks, arguing that the action could endanger American troops abroad and serve as a recruitment tool for Al Qaeda.
The statement, made in an interview with ABC News broadcast Thursday morning, demonstrates how serious the concern is worldwide that the actions of a tiny evangelical church in Gainesville, Fla., could have global repercussions. Religious and government leaders from around the world, including Britain, Pakistan, the Vatican, NATO, and Indonesia, have called on Terry Jones, pastor of the Dove World Outreach Center in Gainesville, Fla., to halt what Mr. Obama called a "stunt."
---
Follow Stories Like This
Get the Monitor stories you care about delivered to your inbox.