Why Democrats are pushing a series of bills doomed to fail
Democrats have put three hot-button issues atop their agenda this week – 'don't ask, don't tell,' immigration reform, and campaign finance reform. They likely won't pass a thing on any of them. But they aren't too worried by that.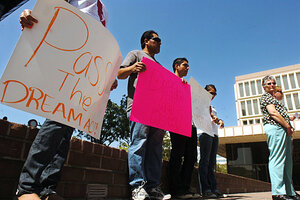 Rick Sforza/The Sun/AP
In the last days before the break for the Nov. 2 elections, why are Senate Democrats focusing their efforts on votes they are all but certain to lose?
On Tuesday, they fell three votes short of the 60 needed to avoid a filibuster on a defense spending bill, primarily because they attached two controversial amendments – one that would end "don't ask, don't tell" and a second that would offer a path to citizenship for some illegal immigrants.
In the aftermath of that defeat, Senate Democrats are shifting back to the Disclose Act – a campaign finance reform bill that didn't attract a single Republican vote when it last came before the Senate on July 27.
It is not a theme necessarily aimed at legislative success.
"The only plausible answer is that this is symbolic politics aimed at sending messages to voters rather than legislating," says Julian Zelizer, a congressional historian at Princeton University in New Jersey.
"In certain respects the legislation is secondary," he adds. "The problem is that the bill and the next one can backfire..., here with charges that Democrats are playing politics with defense. Also it does little for the main concern of voters – the economy."
The three pieces of legislation all serve important political purposes:
---
Follow Stories Like This
Get the Monitor stories you care about delivered to your inbox.