How will Republicans deal with growing gay rights issues?
On same-sex marriage and "don't ask, don't tell," Republicans and other conservatives increasingly are at odds with public opinion. Will the tea party movement help gay rights?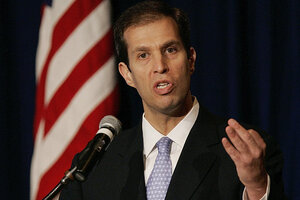 Ed Andrieski/AP/File
Chances are, there are just as many gay Republicans as there are gay Democrats – why wouldn't there be? – even though one might assume otherwise based on commonly-held assumptions about what it means to be "conservative" or "liberal," particularly when religion and "family values" are thrown into the mix.
But no matter how one argues those points, the GOP finds itself in a rapidly evolving situation regarding sexual orientation and gay rights.
In Washington the other day, the group Log Cabin Republicans honored what it called "allies in its fight to create a more inclusive Republican Party." Among them were six Republican members of Congress, including Sen. John Cornyn of Texas, chairman of the National Republican Senatorial Committee, and Rep. Pete Sessions of Texas, chairman of the Republican National Congressional Committee.
The group's mission statement includes standard conservative boilerplate: "balanced budgets and fiscal discipline," comprehensive tax reform, Social Security "allowing individuals to invest in their futures," strong national defense, and "market driven health reform."
---