Like France, will US soon move to boost retirement age?
The prospect of a higher official retirement age infuriates many French. Boosting the age limit in the US is one way to help make Social Security solvent, many economists say. Would Americans be just as mad?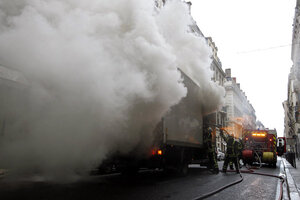 Laurent Cipriani/AP
The issue that's provoking angry protests in France – proposals to raise the official retirement age – could come to the United States, too, and sooner than many Americans may expect.
In France, the furor involves government plans to boost the minimum age for retirement benefits from 60 to 62, and the age for full benefits from 65 to 67.
The move would essentially put France in sync with America's current eligibility rules for Social Security. And it has been met with a storm of protest. By some estimates, 3 million French citizens have participated in sometimes-violent demonstrations and strikes over a measure the parliament could approve this week.
Could all this happen in the US?
Proposals to raise the retirement age, definitely. The riots and tear gas? Impossible to know.
QUIZ: What are Europe's 5 most generous pension systems?
Boosting age limits is widely seen by finance experts as a pragmatic way to put Social Security on a path of long-term solvency.
Americans are not as prone as the French to take to the streets over the age of retirement. Then again, Social Security isn't called the "third rail" of politics for nothing. It's possible that age-change proposals could be coupled with other tax or benefit adjustments that, together, would be deeply unpopular with many Americans.
---