Blagojevich trial delay could hamper Rahm Emanuel's run for Chicago mayor
There are already signs that former governor Rod Blagojevich's corruption trial will play a role in the Chicago mayor's race. Rahm Emanuel's opponents in the race say he needs to divulge more about his dealings with Blagojevich.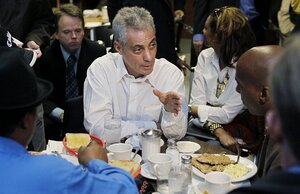 M. Spencer Green/AP
The retrial of embattled former Illinois Governor Rod Blagojevich was pushed back a second time this week, from January to April, which will lesson its impact on state and city elections here this fall.
US District Judge James Zagel set April 20 as the new trial date following a defense team request saying January did not give them enough time to prepare. Mr. Blagojevich was convicted of one count – lying to FBI agents – during his first trial this summer, leaving the jury deadlocked on the remaining 23 charges involving racketeering, conspiracy, and bribery related to the selling of President Obama's former US Senate seat for cash.
A restructured legal team will represent Blagojevich for the retrial. It will not include Sam Adam Jr., the leading member of the original team who delivered the opening and closing arguments.
Moving the trial to April lessons the impact the high-profile case will have on midterm elections here, as well as the race for mayor that will take place Feb. 22. If needed, a run-off in the mayor's race is scheduled for April 5.
Former White House Chief of Staff Rahm Emanuel, who is running in the mayoral election, was served a subpoena to testify during the first trial but was never called.
---