Obama tax deal gets nod from Senate. Will House risk making changes?
Senators vote to end debate on GOP-Obama tax deal, clearing the way for its passage. Attention now shifts to the House, where liberal Democrats are expected to discuss revisions.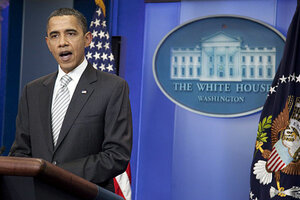 Evan Vucci/AP
In a break with gridlock, the Senate voted 83 to 15 Monday to move ahead with a bipartisan deal ­– first proposed by President Obama and Republican leaders – on extending the Bush tax cuts for two years, including for those in the top income brackets.
The $858 billion measure – which also extends unemployment benefits for 13 months, gives a one-year reduction in Social Security payroll taxes, curbs the alternative minimum tax, and exempts estates up to $5 million from the estate tax – is now on track to pass the Senate early this week.
But it must also clear the House, where the majority Democratic caucus last week declared strong opposition to elements of the package, especially the unexpected fix for the estate tax, now set to revive next year. Instead of the pre-Bush era 55 percent rate for estates valued at over $1 million, the deal proposes a 35 percent rate for estates over $5 million.
Bush tax cuts 101: Who will get what if Obama deal passes?
While the rift between liberal Democrats and President Obama over the compromise deal has led to heated exchanges, analysts suggest the deal's popularity with the public will make it difficult for critics to block passage in the House.
---