Deficit reduction: Why it may not be dead despite the costly tax cut deal
The tax cut deal that President Obama signed Friday costs $858 billion, making the cause of deficit reduction that much more challenging. But deficit hawks still see some hopeful signs.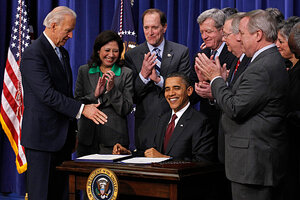 Jim Young/Reuters
With President Obama's signing of a historic tax-cut agreement Friday, deficit hawks may be in mourning. The deal costs $858 billion, and it's all paid for with borrowed money. The nation's unsustainable fiscal path has just gotten even more treacherous.
It was just two weeks ago that the president's bipartisan fiscal commission failed to garner enough votes to send a tough package of debt reduction measures to Congress. Members expressed hope that their stronger-than-expected showing – 11 of the 18 members voted to approve the chairmen's report – would nevertheless spur action. But there is no requirement to act.
Still, deficit hawks are expressing some optimism that Washington policymakers won't just make like ostriches and stick their heads in the sand over record deficits. The signs:
• A bipartisan group of more than 20 senators has been meeting since July to try to push for fiscal discipline. The senators' effort to require the Senate to address comprehensively the deficit, spending cuts, and tax reform in 2011 failed to make it into the two-year tax-cut legislation signed Friday, but they will keep pushing for action.
• The fact that the extension of Bush-era tax cuts was not made permanent means the issue – and its impact on deficits – will not disappear. The down side of the extension is that its time frame coincides with the electoral cycle. Some deficit hawks worry that, just as this time, political pressures will make it impossible to address in a fiscally responsible way. But two years from now, much will depend on where the economy and the longer-term fiscal picture stand.
---