House Speaker John Boehner casts himself as a political throwback
The past 16 years in Congress have been typified by partisanship and procedural stunts. New House Speaker John Boehner promises to return the House to a time when members can 'disagree without being disagreeable.' He will be put to the test, and soon.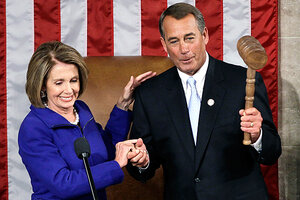 Charles Dharapak/AP
Wielding an outsize gavel, Speaker John Boehner of Ohio Wednesday marked the second chance Republicans have had to run the House in more than a half century.
There was little of the triumphalism that marked the GOP takeover in 1995 – after 42 years in the minority. Instead, Mr. Boehner spoke of humility and the fragility of human life and, less directly, political power.
"The American people have humbled us. They have refreshed our memories as to just how temporary the privilege to serve is," he said.
GOP Speakers Newt Gingrich and Dennis Hastert, collectively, lasted 12 years; Speaker Nancy Pelosi, only four. Those years were marked by some policy triumphs, but also a bitter partisanship that, in Boehner's words, scarred the House. In the majority, Republican and Democrats moved their agendas by choking off House debate, late night votes, and procedural stunts that became laugh lines on late-night television.
---