A 'state of the union' fight ahead over US government spending
How furiously to cut government spending is likely to be a major point of departure between Obama, who gives the State of the Union address on Tuesday, and congressional Republicans.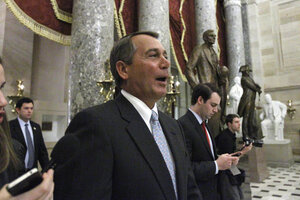 Alex Brandon/AP
With Republican Rep. Paul Ryan facing off against President Obama over the "state of the union" next Tuesday, the stage is set for a night that could reveal the shape of political battles to come.
At issue: Are Americans best served by a federal government that goes on a strict spending diet, or should the path toward fiscal discpline be more gradual and less focused on shrinking the size of government?
Both men agree that America's current path is unsustainable – that persistently high budget deficits at some point will imperil the economic security and dynamism.
RELATED: Four hot-button issues Republicans will target next
But Mr. Obama is expected to argue Democrats' case for the gradualist approach, with an eye on government's ability to make economy-enhancing investments, not simply BE a millstone around the neck of the private sector.
Congressman Ryan of Wisconsin, whom Republican leaders named Friday to give their party's televised response to the president's State of the Union speech, will take up the case for deep cuts in government spending as an aid to economic growth. He became a rising star in his party not for charisma but for his energetic forays into the weeds of the federal budget, conservative principles in hand.
---