Obama State of the Union 2011: US must 'win the future' through innovation
In the Obama State of the Union 2011 address Tuesday, the president says innovation and education should be at the center of efforts to strengthen the American economy.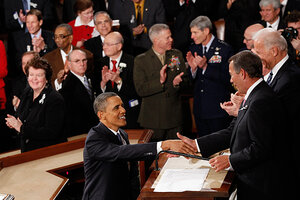 Jim Young/Reuters
President Obama on Tuesday night delivered a State of the Union address focused on creating American jobs by fostering innovation and encouraging industry.
With the 2012 campaign looming on the horizon, it was a speech that seemed to reflect one of former President Clinton's famous political credos: "It's the economy, stupid."
Among other things, Mr. Obama called for cutting corporate taxes, spreading high-speed Internet to all corners of the nation, and boosting spending on research, technology, and education in an effort to keep the US ahead of China, Europe, and other economic competitors.
"We measure progress by the success of our people. By the jobs they can find and the quality of life those jobs offer," said Obama.
What America does better than any other nation is to spark the creativity and imagination of its people, said the president. The US is the nation that put cars in the world's driveways and computers on the world's desks; it's the nation of Edison and the Wright Brothers and Google and Facebook.
---