Jerry Brown's State of the State: Whom does he need to impress most?
In his State of the State address Monday, Jerry Brown needs to persuade undecided Californians and at least five Republican legislators that his tax-and-cut budget plan is the right one.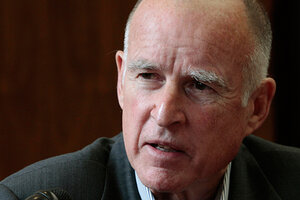 Rich Pedroncelli/AP
California Gov. Jerry Brown (D) has to be a man of several hats – serious, visionary, and funny – all in the nine to 20 minutes he will likely give to his State of the State address Monday afternoon.
With giddy delight, he set a tone at his Jan. 3 inaugural that he intends to be a no-nonsense, practical governor who won't squander political good will early. He has followed that with a three-pronged proposal to deal with the state's $25.4 billion deficit: legislative spending cuts, followed by a special election to extend certain tax rates, and last the final budget for the legislature to pass.
His challenge Monday is to sell the complicated plan to the public and key legislators. It will likely leave little room for laundry lists of other priorities. For Governor Brown at this moment, the budget requires his near-total attention.
"He has to do more than lay out reasons why the state is broke, he has to make it clear why it's worth it to go through all this pain," says Barbara O'Connor, director of the Institute for Study of Politics and Media at California State University, Sacramento.
---