Obama's Valentine's Day budget: No roses or bon-bons for the GOP
President Obama's FY 2012 budget lands on congressional desks Monday. Republicans are unimpressed, which sets the scene for a long fight over spending, taxing, and deficit reduction.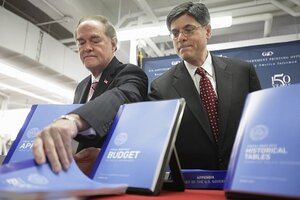 Jacquelyn Martin/AP
It's only by coincidence that President Obama's federal budget for FY 2012 arrives on congressional desks on Valentine's Day – a weighty tome far heavier than a box of chocolates.
It's more challenge than gift, though, especially now that the tea party-tinged House is run by Republicans. They're already ripping through the contents, pronouncing them unacceptable.
Obama's budget, House Speaker John Boehner said on NBC's "Meet the Press" Sunday, "will continue to destroy jobs by spending too much, borrowing too much, and taxing too much."
"Borrowing and spending is not the way to prosperity," Rep. Paul Ryan, chairman of the House Budget Committee, said on "Fox News Sunday."
The plan is "very small on spending discipline," the Wisconsin Republican said. "Presidents are elected to lead, not to punt. And this president has been punting."
That's certainly not the way the White House sees it.
---