By keeping his distance, has Obama played Wisconsin right?
With the battle of Wisconsin reverberating in union halls across the country, Obama has refrained from weighing in forcefully on a core Democratic issue. Analysts say he has played it right.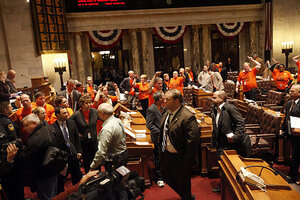 Wisconsin State Journal/M.P. King/AP
As the great battle of Wisconsin has raged – the newly minted budget-cutting Republican governor vs. public-employee unions – President Obama has appeared to be in a no-win situation.
Mr. Obama needs the manpower and money of Big Labor to help him mount a vigorous reelection campaign in 2012, and it is vital to his political interests that the unions remain strong. That the battle is centered in the political swing state of Wisconsin – with side skirmishes going on in two more swing states, Ohio and Indiana – only raises the stakes.
At the same time, Obama needs to show that he's serious about fiscal responsibility, amid dire predictions about the nation's unsustainable deficits. He and the Democrats are heading for their own showdown with Republicans in Congress over federal budget-cutting and a possible government shutdown.
Had Obama faced such a vexing predicament last year, he may not have been able to resist the temptation to appease his political base and address head on an issue touching core Democratic principles.
But Obama has, for the most part, stayed out of the Wisconsin imbroglio, and in fact, political analysts say, in not carving out an intricate "middle way," Obama has played it right.
"The biggest danger in some ways was for him to be consumed by this issue," says Julian Zelizer, a professor of history and public affairs at Princeton University. "That hasn't happened."
---